Personal Online
Listen to audio anywhere at anytime
Listen to your school notes, office documents, and even printed books from your computer or mobile devices
Supports PDF and most document formats
PDF, txt, doc(x), ppt(x), pages, ods, odt, and non-DRM epub files.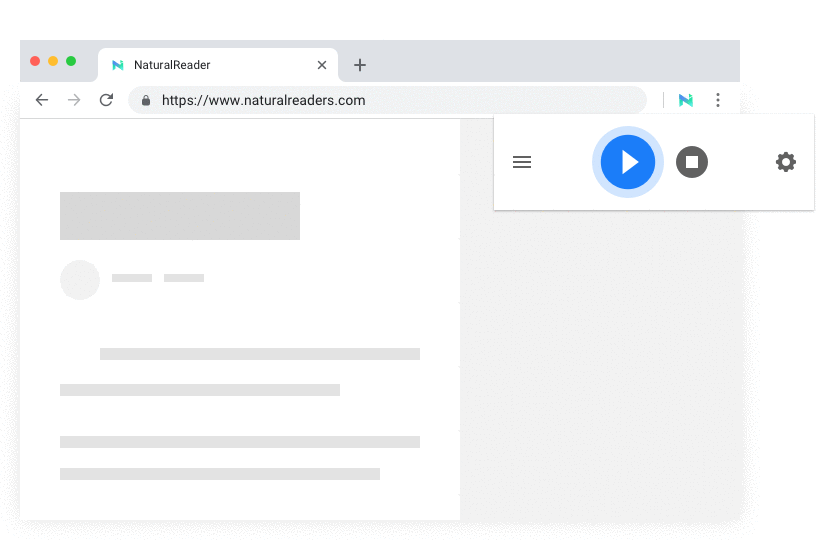 Chrome Extension
Listen to your emails, news, articles, and Google Docs directly from the webpage.
Add Chrome Extension Now
Read Aloud Images
& Scanned Files
Use OCR to listen to your printed books, scanned documents, and text from PNG or JPEG images.
More Features
Mobile
Listen to your documents from the desktop or mobile
57+ Natural Voices
Include access to 57 natural sounding voices from 9 different languages.
Pronunciation Editor
Correct or improve on the pronunciation of any word in any language.
Dyslexia Font
Specifically designed as a reading aid to help dyslexic readers.
Bookmark Sections
Add bookmark to save your place and continue reading later.
Footer & Header Adjustment
Adjust reading margins to skip reading from headers and footnotes on the page.
Simple Plans for Everyone
*All prices are in USD
WEB FREE
Unlimited text-to-speech
20 minutes per day for Premium Voices
Unlimited usage of Free Voices
Supports PDF, txt, doc(x), ppt(x), pages, ods, odt, and non-DRM epub files.
Chrome Extension with unlimited use of Free Voices
WEB PREMIUM
$9.99
/ mo
(Or 59.88/year)
Unlimited text-to-speech
Unlimited use of 50+ Premium Voices
Pronunciation editing
Convert to mp3 for up to 1,000,000 characters per month
Chrome Extension with unlimited use of Premium Voices
PREMIUM PLUS
$15.99
/ mo
(Or 95.88/year)
All features of Web Premium included
Listen to scanned PDFs with OCR
Listen to images with OCR function
Convert to mp3 for up to 1,000,000 characters per month
Take photos of text to listen from mobile version
We strongly recommend that all customers try before you buy. You can try the application for free from this page or by clicking on the 'Online Reader' link from our website:
https://www.naturalreaders.com/online/
By default, all subscriptions are set to auto-renew at the end of the billing period but you can turn this off at any time by selecting 'Cancel Subscription' from your account's Billing Settings. After you cancel, paid service will continue until the end of the current billing period without renewal.
Cancelling your subscription will not automatically initiate a refund, which is done manually by request only. Yearly subscribers of either plans for NaturalReader Online may request a refund for up to 30 days after the subscription start or renewal date and for up to 14 days for monthly subscribers. To request a refund, please contact us through our website's help system (click on the blue chat icon in the bottom right corner).
With the NaturalReader Online plans, you can convert text into downloadable mp3 files. This feature is limited to 1 000 000 characters for mp3 conversion per month for all subscription plans. The text to speech conversion itself is unlimited —this limit only applies if you are looking to download the audio as an mp3 file.

If you're concerned about these limitations, we recommend you take a look at the NaturalReader software versions. Personal, Professional, and Ultimate all can convert the text into downloadable audio files, and this feature is unlimited in all those versions (for personal use only).

*Audio files generated using NaturalReader Online or the NaturalReader Software versions are permitted for personal use only.* For any non-personal, commercial, or and public use, please check out NaturalReader Commercial.
Personal use means that only you the individual purchaser may use the software or application for your own private listening. Audio files created with the personal-use versions cannot be used publicly (including on websites or YouTube videos), commercially, or otherwise redistributed in any way. Only you may create the audio files for only yourself to enjoy and they cannot be utilized or made available to any other systems or people.

Please keep in mind that 'internal' or 'non-profit' use (such as for messaging systems or training videos) nonetheless requires a commercial license to allow redistribution of the audio content.

For any non-personal use, please check out NaturalReader Commercial, which is a separate application.